cocktail fare
Planning a party?
Pick + choose from the items listed below to create the perfect Cocktail Party setting. We will gladly help you design your festive Cocktail Party menu and send you an array of staff to help create a memorable event.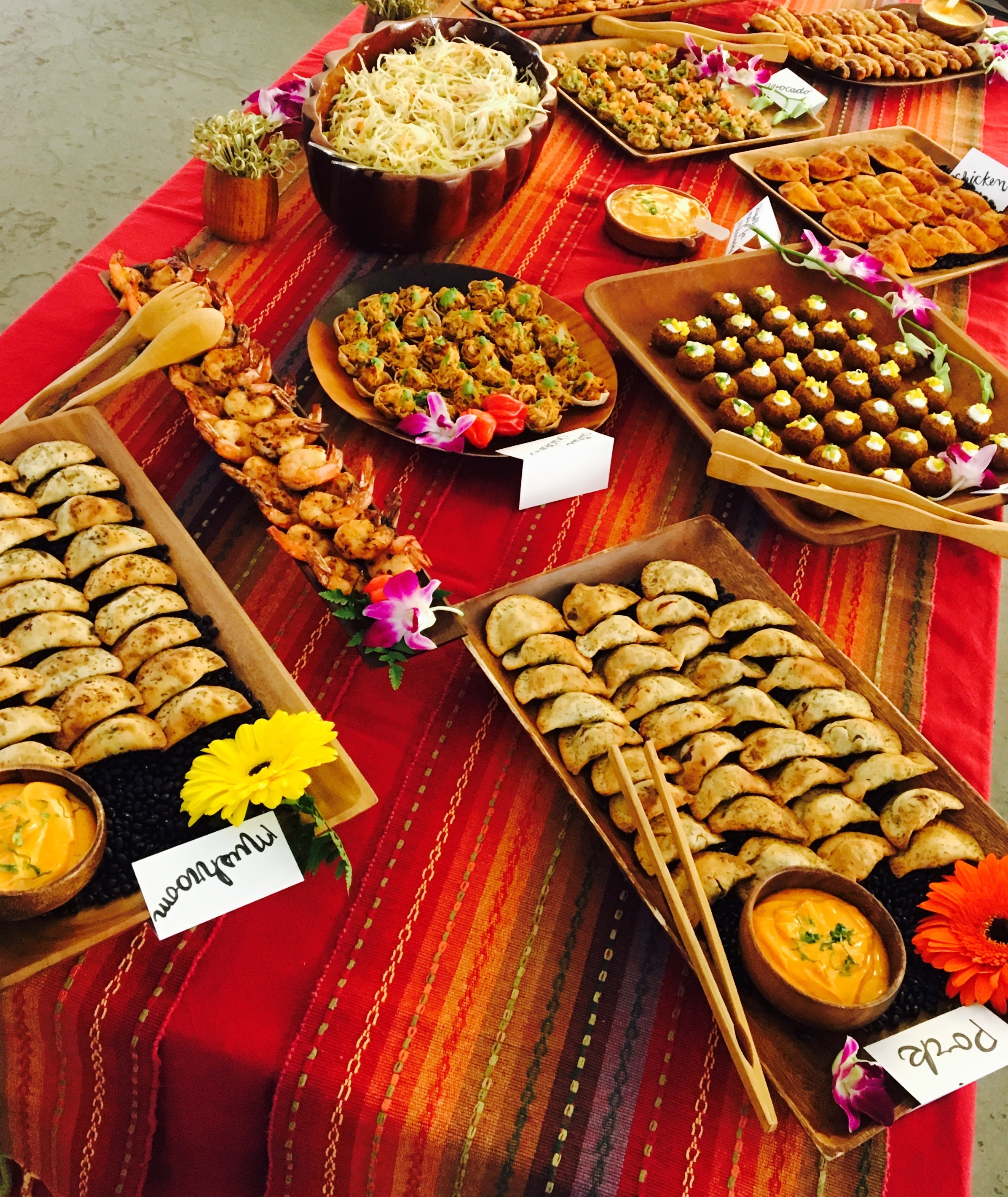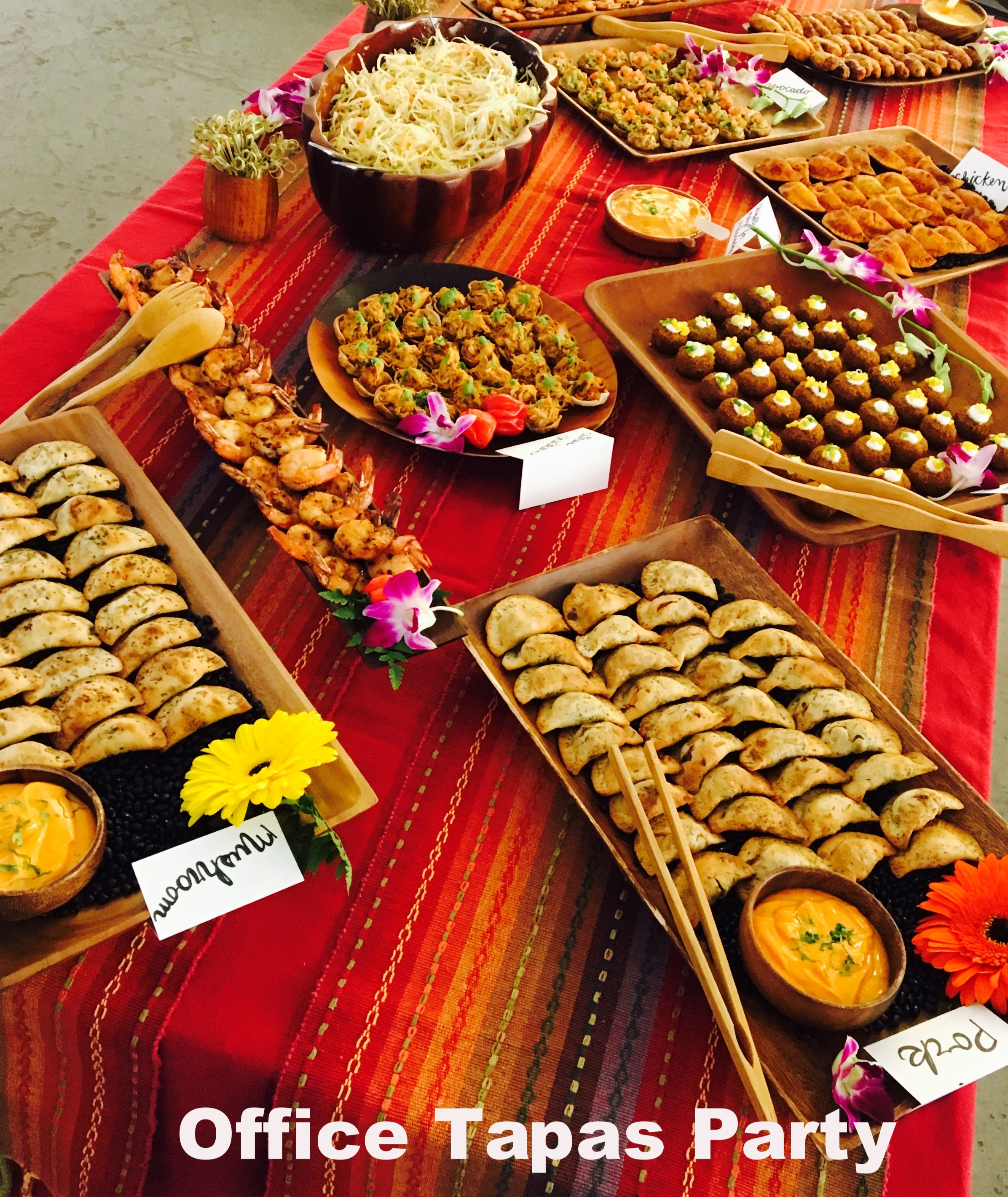 SEAFOOD
•Smoked Salmon Tartar on Seasoned Plantain Chip or Tortilla
•Shrimp Ceviche on Fried Yucca Chips or Tortilla Basket
•Fluke Ceviche with Avocado
•Smoked Salmon and Pesto Tortilla Rolls
•Smoked Salmon Quesadillas with Arugula and Goat Cheese
•Fire Grilled Marinated Shrimp Wrapped in Smoked Bacon
•Spicy Garlic Shrimp + Avocado Salsa on Blue Corn Chips
•Pan Seared Spicy Garlic Shrimp with Lime
•Mini Red Pepper Crab Cakes with Chipotle Mayonnaise
•Tuna Tartar on Yucca Chips
VEGETARIAN
•Goat Cheese, Tomato and Basil Mini Pizettas
•Caramelized Onion + Fontina Cheese Mini Pizettas
•Roasted Asparagus with a Dijon Aioli
•Fried Manchego with Guava Dipping Sauce
•Spicy Black Bean Cakes with Avocado Mango Salsa
•Avocado and Pico de Gallo in Plantain Cups
•Baked Tortilla Baskets with Black Beans and Queso Blanco
•Porcini Risotto Croquettes
•Melon Gazpacho with Three Pepper Salsa
•Mini Pupusas with Spiced Black Bean
•Three Cheese Repochetas (Baked Quesadillas)
•Minty Pea Risotto Cake with Crema Fresca
•Dips
(Served with Baskets of Fried Plantain Chips or Handmade Tortilla Chips: Black Bean and Cilantro, Chunky Guacamole, Pico de Gallo, Avocado and Mango Salsa)
POULTRY
•Citrus Marinated Chicken Skewers with Poblano Cream
•Mini Chicken Quesadillas with Queso Blanco and Three Pepper Salsa
•Chipotle Spiced Chicken in Plantain Baskets
•Herb Chicken Mini Wraps
•Spiced Chicken + Fortina Tartlets
•Citrus Braised Chicken with Mango Salsa in Crisp Tortilla Baskets
PORK/BEEF
•Prosciutto Wrapped Asparagus Tips
•Grilled Chorizo + Aged Manchego with Pickled Onion
•Risotto Croquettes with Bacon + Fontina
•Chorizo Stuffed Dates Wrapped in Bacon
•Gorgonzola, Prosciutto + Arugula Bundles
•Beef Chimichurri Skewers
•Pulled Pork in Plantain Baskets with Poblano Cream + Pickled Red Onion Relish
•Chorizo in a Blanket
•With Smoked Gouda, Wrapped in dough and Baked
•Sweet Mini Peppers with Beef Picadillo
EMPANADAS
•Queso Blanco
•Herb Chicken and Olive
•Portobello Mushroom and Smoked Gouda
•Ground Beef and Tomatoes
•Chorizo and Manchego
•Pulled Pork + Caramelized Onion
SWEETS
Chocolate Empanadas with Dulce de Leche
Chocolate Meringue Cookies
Citrus Mousse with Seasonal Berries
Chocolate Mousse with Dulce de Leche
Tart Lemon Bars
Passion Fruit Tartlets
DROP US A NOTE BELOW TO PLAN A FABULOUS FIESTA. WE LOOK FORWARD TO CREATING AN EVENING FOR YOU FILLED WITH MEMORIES.